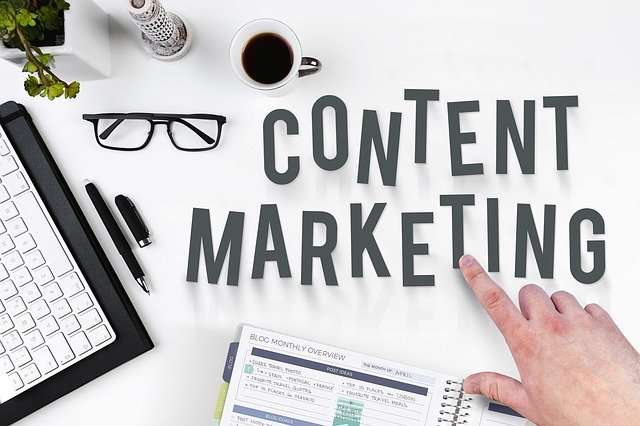 The phrase "content is king" is echoed by every SEO agency across the globe. But is it really? We know that adding specific key phrases, key words, word count, good grammar, readability and related terms on a web page can help Google figure out what exactly a web page is about. This is paramount for indexing and ultimately ranking.
However, Off-site SEO (i.e. back-linking, citations, mentions) is the other side of the coin, adding authority or 'popularity' to the designated page or domain.
Our case study here involves adding one new element to a page and tracking the rankings. That one thing was content. Our thoughts were to add a nice large piece of relevant content written by the owner who is an authority in his field, optimised by our SEO team. This piece of content was over 2,000 words, had multiple headings, written for the relevance of "Business Lawyer Orlando". We always tell our writers, or in this case the lawyer himself to write freely, but stay relevant. After which, we will go in and optimise the headings, title tags, external links, internal links and of course add a few back-links to the page.
What about back-links? Apart of our SEO growth plan, we add three back-links a month from real high quality websites. The anchor text is controlled, as well as the text around the hyper-link. In other words, white hat SEO. We had been adding these links to this page for around 7 months. We initially saw a big jump from page 90 to page 10, to page 6. He was not going beyond page 6… We needed to get through the stall!
Our first thought was to dedicate more time into back-linking… But, we decided to check out the page first. As we thought, there was little to no content here. No image, less than 200 words, and no internal linking or external linking. This was a no brainer… We needed content!
Research shows that the majority of page one webpages have ~2,000 words. So we asked if he would be willing to write a nice piece around that word count. Luckily, he managed to squeeze out a beautiful piece regarding business law.
We took his content, and optimised it for specific industry and local keywords. Then, we highlighted H1s, H2s, Titles, and alt-text before syndication. We also ensured that the internal linking was there along with a "contact us" button.
The per-usual back-linking was held constant, with the three links added. The only variable was the beefy content for that month.
What did we Find? I think you already know… Rankings!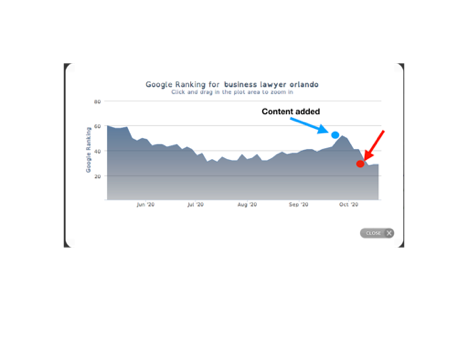 Our Business Attorney client jumped from page 6 to page 3, in 1 week! As you know, the only thing that changed on that page was content. We already know that content is important, google has established this and had been yelling this from the roof tops for years. Content is great, but the best SEO companies know you need creative, original, non-duplicative, relevant content to make a dent in Google… As it should!
As part of our SEO plans, our writers create original content or take your content and optimize it fully using our keyword research. We also add high-quality links for authority, social signals, local listings (65+ directories), GMB set-up and optimisation, keyword research and mapping, and more. Making us the best Orlando SEO Agency. .
Contact us for help, Let's grow together
407-252-2489