Search engine optimization (SEO) was once just a digital marketing buzz word, but now small businesses are catching on too. Although they know how essential SEO might be to their success, they typically do not have a strategy in place to optimise their web presence. Our DocRokit local seo expert team is here to solve the mysteries of ranking locally.
Businesses operating in the healthcare industry are in need of a great SEO strategy, and 2020 is a fantastic time to invest. With a growing emphasis on insurance coverage, physician accessibility, and even the national response to pandemics, the healthcare industry is a hot topic. It's also an area that Google cares about tremendously, as is evidenced by the 2018 core algorithm update (dubbed the "Medic" update) that focused on highlighting expertise, authority, and trust — E.A.T., for short.
The medical field is difficult and competitive to market. Urgent cares are on the rise with an average 21% increase in care facilities nationwide. With so much competition it is indeed difficult to compete and rank on Google, a necessity to gain visibility for new patients. In fact, the number of urgent care facilities nationwide increased from 6,400 in 2014 to 8,100 in 2018, with another potential 600 expected to open last year. One source cited by the Urgent Care Association (UCA) noted that urgent care clinics handle approximately 89 million patient visits on an annual visit — 29% more than all primary care visits nationwide.
In other words, urgent care facilities are experiencing enormous growth — which is all the more reason for business owners operating in this sector to prioritize and invest into their digital marketing efforts (e.g. SEO, PPC, Facebook Ads, Reviews). But while it can be a challenge to crack the code on your own, having an experienced local seo orlando provider can help your clients rise to the top. After all, business owners and office managers don't have the time to become a digital marketer overnight.
Reading this urgent care SEO case study will allow you to gain insight into our processes, our products, and our commitment to growing together.
In this particular case, the business owner was willing to invest in one of our robust SEO plans. This our first time working together so we were eager to deliver.
The urgent care clinic in question is located in Backersfield, CA in a relatively competitive area. With this campaign, there was a need to focus on local SEO elements. Appearing in the map pack and in geo-targeted search results is paramount for health care clinics. After all, if new potential patients don't see the clinic appear prominently in nearby search results, the client's business will suffer while the competitor swiftly steals them.
When the campaign began in July 2019, there were a number of areas that needed extra attention… The website content management system (CMS) had a few issues. For one, we needed to actually build a blog from scratch to post our onsite optimised content. In regards to the client's backlink profile, there were very few referring domains and a low number of links pointing to the site. Which decreases the websites authority in the eyes of Google. Moreover, there were several "missing" keywords (meaning that they didn't show up on the first 10 pages of SERPs) that needed to be "found." The best place to hide a dead body is the second page of google… in this case past 10! They deserved better visibility.
It was clear that we needed to take quick action to increase quality website traffic and improve google rankings. We got to work on improving the site's backlink profile (and thus, domain authority) and on creating fresh blog content for the site which was posted monthly. We also started tracking their phone calls and website form leads as a means to increase conversions. You can't improve what isn't measured! DocRokit has your back.
In DocRokit's local SEO Orlando SEO plan provided to this client – (Growth Plan) the client receives a higher amount of deliverables each month. Included in the plan are two monthly onsite blogs, one monthly visual asset (a customised image for each blog), seven monthly off-site articles, and two featured news stories. While blogs and visual assets are intended to optimize the client's site, articles and featured news pieces are meant to bolster the client's backlink profile and domain authority. Articles are generally evergreen pieces of content that are posted on relevant websites and provide greater control over anchor text for backlinking purposes. Featured news stories, on the other hand, can be either recent news pieces or evergreen content published within our DocRokit network of independently operated websites; these websites have high domain ratings and will help to diversify the client's backlink profile. When it comes to backlinks, they need to be high quality, relevant and diverse! No spammy link building services here…
Also, included in this client's SEO plan are a thorough website audit, 30 target keywords, keyword research, social media sharing, content posting, conversion reports, and more. While the Urgent care owner indicated an initial keyword list to work from, those keywords can be amended at any point. In this case, we adjusted these keywords to address new targets and increase potential rankings over the course of the campaign. In addition, our account manager is in frequent contact with the client to discuss results, make changes, and express recommendations for further growth.
The Results



As you can see from the charts above, the client's website went from having 46 organic visits (traffic) in July 2019 to 319 organic visits in February 2020. That's a huge leap in only seven months. Moreover, the client went from having six referring domains and 13 backlinks to 48 referring domains and 217 backlinks. Representing a drastic improvement in their backlink profile. As a result, the client's domain rating increased from 1.2 to 7, where it currently stands, outperforming the local competition.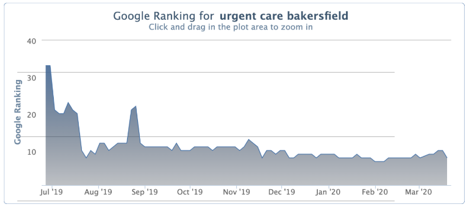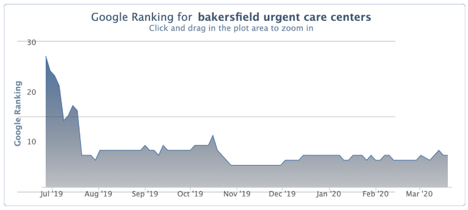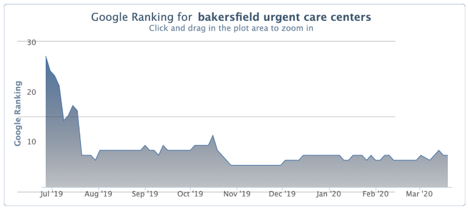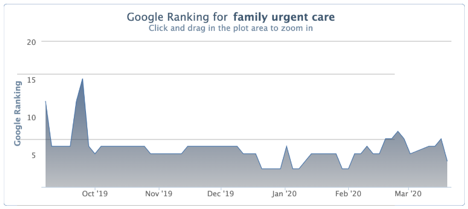 You'll also notice that this campaign has seen massive growth in terms of keyword ranking movement. Currently, the campaign has rankings for 69 keywords — three of which now appear on page one. The terms "family urgent care," "Bakersfield urgent care centers," and "urgent care Bakersfield" are all prominently featured. That's especially impressive when you realize that "family urgent care" was initially one of this campaign's missing keywords! Notably, the client actually ranks 12th for the highly competitive term "urgent care." While they aren't yet on page one for that term, they're incredibly close — and with a few adjustments, there's a lot more growth to be had. Still, it's clear that focusing content specifically around that "urgent care" search term is already paying off. Which means more visibility and of course… more patients!
How We Can Help Businesses in the Healthcare and Medical Sector
While creating a successful SEO strategy for clients in the medical and healthcare fields can be challenging, it's far from impossible… We do it every day! Our local seo orlando agency is highly experienced in strategizing for urgent care facilities, medical suppliers, clinicians, health insurance providers, and a number of other businesses operating in related fields.
We understand you have a tough decision ahead of you when choosing an SEO agency. That's why we wanted to share yet another successful SEO case study example for you to consider. Whether you want to learn more about the plan used for this particular campaign or you want to see how DocRokit's local seo expert plans   can quickly optimize what you  already have, we're here to guide you and act as your partners in growing your business. For more information, get in touch with our team today.